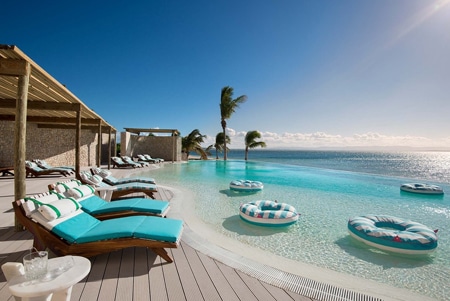 In order to escape the cold autumn weather, we have come up with something very special for you: The exclusive 5-star luxury resort Miavana, opened this year. It is located on the fifth largest island in Madagascar Nosy Ankao and can be reached by helicopter within 30 minutes from the Diego Suarez airport. The resort is surrounded by a very diverse and breathtaking landscape that stretches from forests to the protected reef in the aquamarine blue sea. The hotel offers an infinity pool and a rooftop bar, as well as several restaurants, including a pizzeria right on the beach.
Here are some impressions of this resort:
The 14 villas are all larger than 450 m² and have sea views, a private pool and direct access to the sea:
In addition to the classic recreational activities such as snorkeling or fishing, you can also experience more outlandish things such as taking scuba diving lessons free of charge, using the hotel's helicopter to explore the island and its surroundings from the air, go kite surfing or whale watching. The highlights are the so-called "Blue Safaries", a guided tour both on land and in the water.
We fly you with the private jet comfortably via direct flight from Europe to the paradise. The last part of your trip can be arranged either by helicopter or by boat.
Enjoy this breathtaking getaway alone or with your friends and enjoy all the advantages of an own aircraft. Start directly from the VIP terminal and take off already 15 minutes after arriving at the airport. Your desired Catering is of course on board.
Just call us or send us an e-mail. Rent your private jet now at CallaJet.de
Feel free to contact us
if there should be any Questions