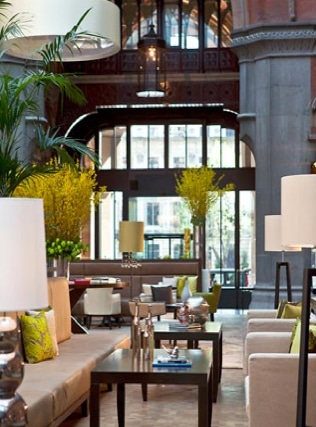 As of now Call a Jet proudly presents luxury journeys way beyond competition. Our unique offerings always combine travelling in a private jet and staying in one out of the exquisitest hotels the world has to offer. Our luxury journey to London can be also viewed as a PDF-document.
Our July-offer for you: London.
Call a Jet presents a three-days-two-nights luxury journey to London including flight in a private jet and a suite for two people in the exquisite St. Pancras Renaissance London. To make sure to benefit from our special rate (EUR 9.990,– incl. tax), please book in July 2012.
Your arrival:
Our chauffeur picks you up at home and drives you directly to your jet. Your check-in won`t take longer than five minutes and as soon as you are on bord your stewardess will be offering you your favorite champaign. Furthermore, we will serve you finest food and an exquisite choice of wine. Our Haute cuisine has an excellent reputation and you can enjoy it in your jet, in your suite or in the VIP-Lounge at the Olympic Summergames.
Your hotel:
Exclusively for you we offer two nights in the beautiful St. Pancras Renaissance London Hotel. To discover more about St. Pancras Renaissance London, please click on: http://www.marriott.com/hotels/travel/lonpr-st-pancras-renaissance-london-hotel/
The St. Pancras Renaissance is a London icon and a model of modern hospitality. Behind the fairytale façade that Sir George Gilbert Scott fashioned for the Midland Grand is a 5-star London hotel like no other – one that mingles Victorian splendour with contemporary style and service. Step inside the spectacular glazed entrance hall where Victorian high society once alighted from horse-drawn cabs, and later, glide down the famous grand staircase to dinner in the Gilbert Scott Restaurant, the brilliant, fresh brasserie cuisine of Marcus Wareing awaits.
This luxury London hotel hosts 245 guest rooms, including 38 beautifully restored and updated suites. When you're ready to tear yourself away from your room, take a journey of the senses in the St. Pancras Spa, or treat yourself to the traditional barbering and latest grooming techniques of Melogy. Stop for refreshment in our 5-star London hotel's Booking Office, the former ticket hall adjoining St. Pancras Station and picture the drama of departures and arrivals.
Our promise:
This offer is an example to give you an idea of our prices. To live up to your high expectations, prices will be calculated on an individual basis. This is to make sure that our offer is designed to meet your specific requirements. Please feel free to contact us anytime via mail joe@callajet.de or phone call/text message: +49 (0) 151 1567 4221 (Joe Kurta)