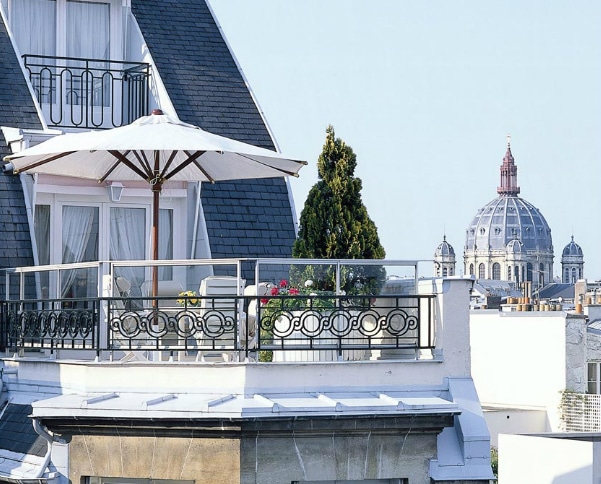 As of now Call a Jet proudly presents luxury journeys way beyond competition. Our unique offerings always combine travelling in a private jet and staying in one out of the exquisitest hotels the world has to offer. Our luxury journey to Paris can be also viewed as a PDF-document.
Our June-offer for you: Paris.
Call a Jet presents a three-days-three-nights luxury journey to Paris including flight in a private jet and a suite for two people in the exquisite Hotel Le Bristol Paris. To make sure to benefit from our special rate (EUR 9.990,– incl. tax), please book in June 2012.
Your arrival:
Our chauffeur picks you up at home and drives you directly to your jet. Your check-in won`t take longer than five minutes and as soon as you are on bord your stewardess will be offering you your favorite champaign. Furthermore, we will serve you finest food and an exquisite choice of wine. Our Haute cuisine has an excellent reputation and you can enjoy it in your jet, in your suite or near the Seine.
Your hotel:
Exclusively out of the "Oetker Collection Masterpiece Hotels" we offer three days and nights in the Hotel Le Bristol Paris. To discover more about the Hotel Le Bristol Paris experience, please click on: http://www.lebristolparis.com/
Hotel Le Bristol enjoys an exceptional position in Paris, a short distance from the Champs-Elysées and its gardens, Place de la Concorde and Avenue Montaigne. Jewel in the crown of the luxury hotel industry, Le Bristol features 188 rooms and suites. All of them are decorated in a classic and Parisian décor: Louis XV and Louis XVI style sitting rooms, original paintings… A new wing, completely renovated in 2009, includes 26 luxurious rooms and suites, some of which with stunning panoramas of the Eiffel Tower and reflecting the traditional style and décor of the original building. This wing also boasts a luxurious new brasserie – Le 114 Faubourg – which has already won several awards and established a strong reputation among the city's food-lovers.
Two new suites have just opened in summer 2011: the 300 m² Imperial Suite and the Honeymoon Suite, which occupies the entire top floor and features panoramic views over Paris and the Eiffel Tower. The new 3 Michelin starred gastronomic restaurant, Epicure opens its windows onto the largest garden of the luxury hotels in Paris. From now on, Chef Eric Frechon cuisine will be celebrated in this completely redesigned space dedicated to the art of living and to the pleasure of savoring.
Partly bathed in natural light and looking out onto an interior garden, the Spa Le Bristol by La Prairie redefines the art de vivre of Le Bristol and French luxury. Le Bristol sealed an exclusive alliance with the prestigious brand La Prairie for facial treatments. This multi-brand spa consists of 8 treatment rooms -two of which are duo rooms and one a Russian Room- a fitness center, a hair salon and a kids club: "Les Amis d'Hippolyte". Dressed in Teak and glass in the style of the most beautiful yachts of the 19th century, the 28°C swimming pool opens onto a vast sundeck overlooking Paris. The fitness space, bathed in natural light offers high performing equipment.
Our promise:
This offer is an example to give you an idea of our prices. To live up to your high expectations, prices will be calculated on an individual basis. This is to make sure that our offer is designed to meet your specific requirements. Please feel free to contact us anytime via mail joe@callajet.de or phone call/text message: +49 (0) 151 1567 4221 (Joe Kurta)